HOUSEHOLD CHEMICAL PRODUCTS FROM KOREA WHOLESALE SUGAR BUBBLE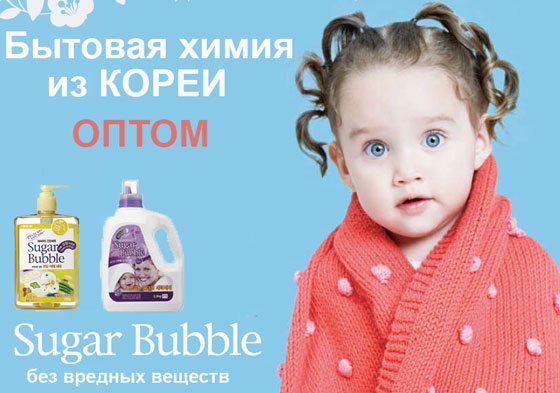 PROJECT DESCRIPTION
The KOREXPERT company offers Korean household chemicalsproducts wholesale directly from the manufacturer. Household chemicals from Korea are becoming more popular among the residents of Russia, Ukraine, Belarus, Kazakhstan and more and more businesses want to buy it in bulk.
The Sugar Bubble products -are environmentally safe, certified, without harmful chemical additives. Effectively removes dirt and grease, simultaneously kills bacteria on the surface, destroys disease-causing bacteria on fruits and vegetables. Composed of natural detergents (plant-based SURFACTANT from sugar cane and olive oil). Household chemicals Sugar Bubble on 99% biodegradable.
We have made an agreement with manufacturers of household chemicals from Korea. We guarantee, that we have the best prices, as the product comes directly from the manufacturer.
Types of home care provided by Korean company Sugar Bubble
Dishwashing detergent wholesale from Korea
Liquid soap
Detergent for baths
Shampoos
Children's laundry detergent - does not cause skin irritation
Washing powder for linen - kills parasites
Fabric softener
Minimum order 40 foot container. Trial order 20 FT. Only medium and large wholesale.
Certification the Korean household chemicals ISO 9001(Quality) and ISO 14001(Environment)
We work only with legal entities.
One representative per region.
For a directory of wholesale prices and free consultation on the household chemicals from Korea wholesale, please contact [email protected] or contact by phone
Ukraine:+380947116685
Korea: +827047320272
[carousel_owl title="Related Projects" post_type="portfolio" posts_count="20" visibility_items="4" thumb="yes" thumb_width="270" thumb_height="200" date="no" author="no" comments="no" excerpt_count="30" display_navs="yes" display_pagination="yes"]