STERILIZER toothbrush PORTABLE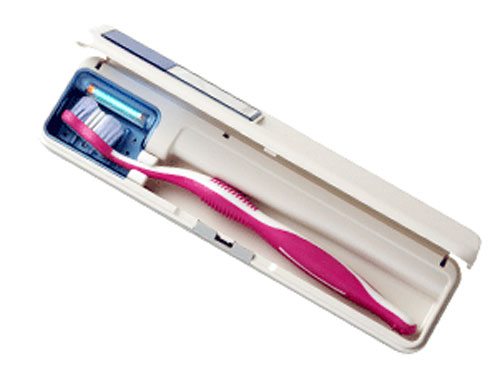 PROJECT DESCRIPTION
Portable UV Toothbrush Sterilizer wholesalefrom the best manufacturers in South Korea. Company Essencia - innovation company, which first brought to market this product.
Sterilizer is powered by two AAA batteries. Truly a wonderful product for people, who care about their health and the health of their loved ones. UV sterilizer through kills 99% bacteria, that remain on your toothbrush after cleaning. Its easy to carry because it is shaped like a conventional cover for toothbrushes, and the battery needs to be replaced once a year.
Adapted to all the main types of toothbrushes and most nozzles on the electric toothbrush.
UV lamp is switched off automatically, after completion of the sterilization process (usually takes about 6-8 minutes), or when you open the top cover.
This product has a very high demand in Asia due to high quality and low price.
CONDITIONS OF ORDER toothbrush sterilizer WHOLESALE
–>Minimum order 1000 units.
Wholesale purchase of portable sterilizers toothbrushes from Korea and the possibility of obtaining exclusive rights to distribute. Directly from the manufacturer with no extra charge.
For the wholesale prices, specifications and a free quote, please contact request@korexpert.com or contact by phone
Ukraine:+380947116685
Korea: +827047320272
[carousel_owl title="Related Projects" post_type="portfolio" posts_count="20" visibility_items="4" thumb="yes" thumb_width="270" thumb_height="200" date="no" author="no" comments="no" excerpt_count="30" display_navs="yes" display_pagination="yes"]