BENCH X2 FASTER CHARGER - wholesale from the manufacturer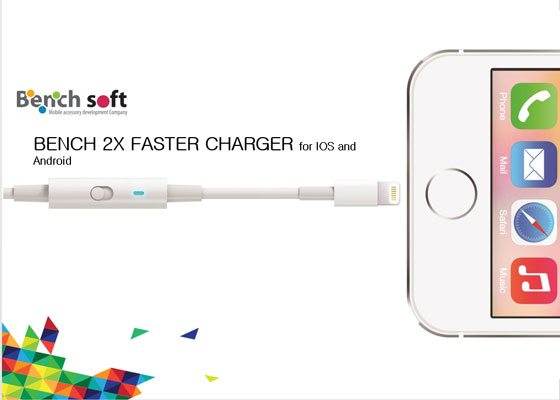 PROJECT DESCRIPTION
USB cable for fast charging of mobile phones and tablets Bench X2 faster charger is the second generation of advanced charging cords. Korean engineers have been able to achieve double charging speed of the device without a negative impact on battery.
There are two types of USB cables X 2: for Apple (для Apple, iPad- коннектор lightning) and for Android (Samsung, Lg, HTC, Nokia etc.) (Micro USB)
Charging the phone from computer, laptops or USB hub in auto, in 2 times faster!
The project brought 100,000 USD on Kickstarter.
Wholesale purchase of charging cords for Android and Apple, and the possibility of obtaining exclusive rights to distribute. Directly from the manufacturer Bench-soft with no extra charge.
to guarantee fast charging - 1 year from the manufacturer.
Minimum order 1000 Pieces. Trial order by 100 units.
The price, details on Bench X2 faster charger and a free consultation KOREXPERT please email [email protected] or contact by phone
Ukraine:+380947116685
Korea: +827047320272
[carousel_owl title="Related Projects" post_type="portfolio" posts_count="20" visibility_items="4" thumb="yes" thumb_width="270" thumb_height="200" date="no" author="no" comments="no" excerpt_count="30" display_navs="yes" display_pagination="yes"]