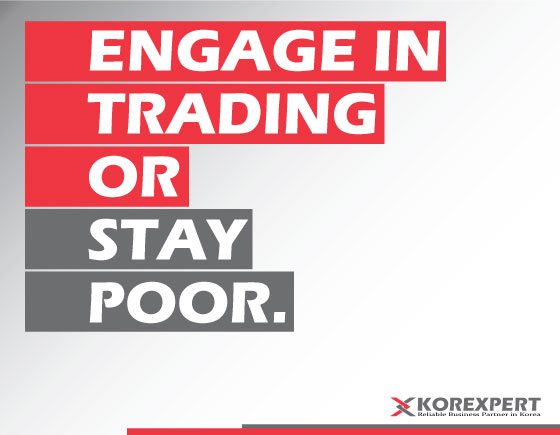 Engaged in trade or remain poor!©
We believe , thattrade, is the best way to economic growth for any country. Each country has its own unique set of natural, human and intellectual resources and trading always benefit for both importers and exporters. Each year, the size of world trade is growing, however, suprisingly, there is a huge amount of goods, that, while being a standard of comfort in one country, has never been sold on the international market. The main reasons are not only the difference in cultures, or country's peculiarities, this is largely incorrect international marketing or just no marketing at all.
KOREA - AMAZING COUNTRY INNOVATION.
We help to establishstrong business relationshipsbetween the Korean manufacturers and large wholesalers in the CIS countries and the Middle East. Korea was selected not by an accident: excellent quality, good price, and most importantly interesting innovative products, that make our lives better.

Only the best products from trusted manufacturers
As a chef, who carefully selects products on the market for his restaurant, we attend exhibitions, visit factories, communicate with consumers and producers, to offer our clients only the best and potentially profitable, successful product.

OUR GOAL - long-term cooperation
When we offer a product of Korean producers to large and medium-sized wholesale buyers, we take our work very seriously. We do not work according to the principle "if only vparit", it is important for us, that the client can successfully sell goods andget the profit to grow his business.

FIND WORK, That you like - So you add five days to every WEEK
We like our work. This means, that by contacting us you will be working with people, who love, what they do, and this is manifested in everything - from the quality of the prepared materials and detailed reports to the sincere smile when meeting with you.

KOREA - AMAZING COUNTRY INNOVATION.
Do you know why we are so confident when recommending the product, that are displayed on our website? We use them ourselves!
This is one of the main charms of our work. We work with manufacturers of cool gadgets for smartphones, different cosmetic devices and various home electronics (starting from electronic bidet to smart locks). We use them in our everyday life and it is a pure happiness.
Our dream, is to give other country people, have great cosumer experience of new devices. Each successful contract makes us one step closer to our goal.